Future Focused
Article Courtesy National Grid
With a longstanding commitment to sustainability and in anticipation of more electric vehicles among its growing workforce, Zenger Group installed 10 Level 2 electric vehicle charging ports at its Tonawanda headquarters.

Nearly 90% of the project's infrastructure costs – including labor, permitting and material expenses – were covered through National Grid's Electric Vehicle (EV) Make-Ready Program, which is available for businesses, multi-unit residential buildings and retail stores, as well as parks and public destinations.

The new charging stations also were supported by New York State's Charge Ready NY Program, which is administered by the New York State Energy Research and Development Authority (NYSERDA). The project received $45,000 in funding, which included a $500 per port bonus to help meet New York State's Climate Leadership and Community Act goal that disadvantaged areas see at least 35% of overall benefits of spending on clean energy and energy efficiency programs. 
The charging stations were installed by Frey Electric Construction Co. Inc. at Zenger Group's 777 East Park Drive, Tonawanda headquarters. They include 10, 240-volt Level 2 charging ports, which can fully charge vehicles in as little as six hours. The 120-volt Level 1 counterpart can take up to 20 hours to fully charge an electric vehicle.
Zenger Group has earned a reputation in Western New York for being innovative and offering state-of-the-art business solutions. The EV charging station investment signals more of the same for the company.

"While the majority of our workforce is currently driving gas-powered vehicles, we're anticipating the shift toward electric vehicles," said Zenger Group President and CEO Stephen Zenger. "The new charging stations demonstrate to our customers and employees that we are committed to them, the environment, and the future. Thanks to National Grid and its EV Make-Ready Program, as well as to NYSERDA and Frey Electric for helping translate vision to reality."
"Our EV Make-Ready program is built for companies of all industries," said Whitney Skeans, Senior Program Manager of National Grid's EV Make-Ready Program, at top, with Zenger. "EV charging stations can attract more customer traffic to a business, benefit employees who own electric vehicles, and encourage others to buy one. Zenger Group's investment is a great example of a company committing to the future and tapping the many incentives of early adoption. Our statewide partnerships with business customers like Zenger offset gas emissions and support New York State's goal of having sales of all new passenger cars and light-duty trucks be zero-emission models by 2035."

President and CEO of NYSERDA Doreen M. Harris said, "We are proud to provide funding for the 10 new electric vehicle chargers installed by Zenger Group. Workplace charging plays an important role in New York State's clean energy future, reducing pollution, and increasing sustainability in communities while giving employees and visitors confidence in knowing they will be able to have easy access for charging their vehicles when they need it."

Keeping ahead of the curve is one way that National Grid proactively collaborates with customers and community partners. These kinds of collaborations are part of National Grid's Project C initiative, which was created to inspire change and create a more equitable future for the company's customers and communities.


Fill 'er up: In the company parking lot, Zenger Group staffers Terry Wherrry, at left,
charges his Kia Niro EV while Patrick Young does the same with his Volkswagen eGolf.

More information about National Grid's EV programs
In 2021, National Grid invested $4.1 million to install 756 charging ports in upstate New York. This work is part of the company's $143 million commitment to install 16,000 charging ports across New York by 2025, which supports the state's goal of having 850,000 electric vehicles on the road by that year.

The incentives available through National Grid's EV Make-Ready Program provide significant cost savings through 2025 and allow for infrastructure to be built to accommodate growing driver demand in coming years. The company also offers a program for companies looking to electrify their fleets, which can reduce gas emissions, improve air quality and meet the de-carbonization goals of New York State.

For more information about how companies can benefit from EV charging at their sites, visit nationalgridus.com/takechargeprogramuny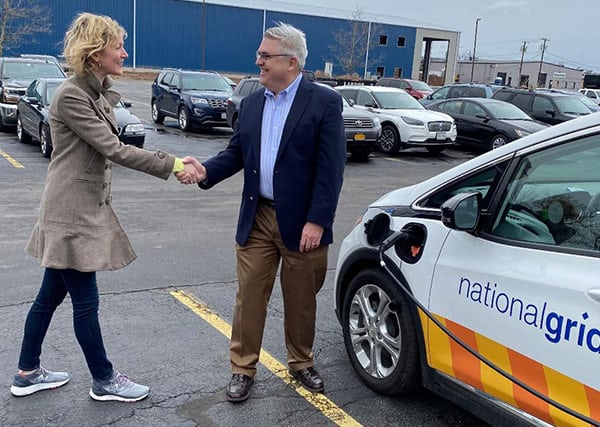 Do you have a project in mind?
Request a complimentary consultation with one of our experts.
"*" indicates required fields