40 Under 40 Recognizes Jim W!
On November 9th, Jim Waddell, marketing manager was named to the Buffalo Business First 40 Under 40 class of 2023!
Via Business First – By Michelle Cioci Adams – Managing Editor , Buffalo Business First
40 Under 40: Jim Waddell of Frey Electric
Jim Waddell is the marketing manager at Frey Electric.
Whether driving on the 290 or sitting at a Bills game, a lot of people have probably been seeing the Frey name more in recent years. That's due in no small part to Waddell, who's been working to boost the company's profile for nearly a decade.
Waddell has overseen much of the company's updated look. He launched the company's social media, redid the website and managed corporate sponsorships, including one with the Bills.
That's helped the company land high-profile jobs such as the new Bills stadium, Peace Bridge and multiple jobs at the Buffalo Niagara Airport.
Waddell also lends his marketing experience to several local agencies. He serves with Invest Buffalo Niagara, the Construction Exchange, Wings Flight of Hope and Save the Michaels of the World.
Jim Waddell
Marketing manager, Frey Electric
Age: 39
Graduate of: Orchard Park High School
College: A.A., liberal arts, SUNY Erie; B.A., public communication/marketing, SUNY Buffalo State University
Born in: Buffalo
Lives in: Orchard Park
Joined company: 2014
Spouse: Katie
Children: Beau, Zoey
Community involvement: Marketing committee, Invest Buffalo Niagara; advisory board, membership & marketing, Construction Exchange; volunteer and supporter, Wings Flights of Hope; participant and supporter, Oishei Children's Hospital and Kidney Foundation of WNY; committee, Sal Sciandra Memorial Scholarship Fund; supporter, Law Enforcement Foundation of WNY; advisory board, marketing, Save the Michaels of The World
Proudest professional accomplishment: Helping to build and continue to build one of the most recognizable brands in WNY with Frey Electric.
Best advice ever received: Search for the value in feedback or criticism. Keep your promises.
In the next five years, I want to: Continue to grow professionally and make an impact in our community and be the best for my family.
Bucket list: Golf at Augusta National Golf Club, Bills and Sabres championship parades on Delaware Avenue
Most people don't know: I love the "Back To The Future" trilogy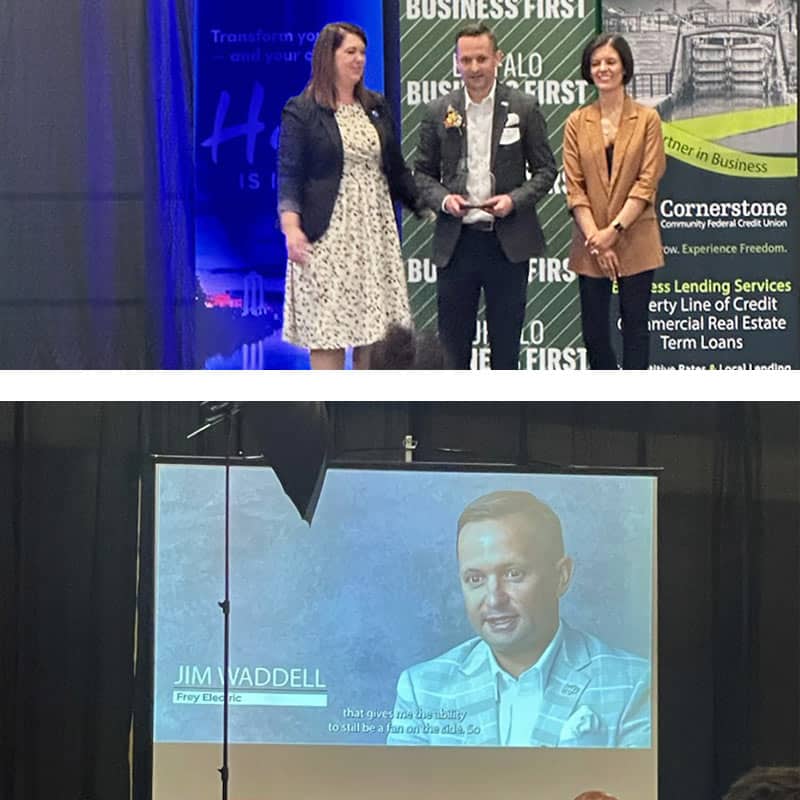 Do you have a project in mind?
Request a complimentary consultation with one of our experts.
"*" indicates required fields